Electronic locking is getting more and more common in residential homes and commercial properties in Australia. Going keyless is very convenient for a lot of families and the technology is developing at quite a rapid rate. It is slowly becoming more and more of my business. Unfortunately like with most things. Not every smart lock is built the same and there are a lot of products that have issues. It's all about choosing the right product for price, security and function.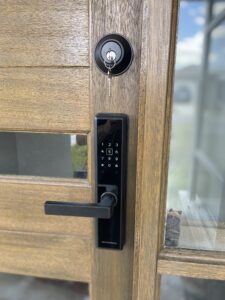 Electronic locks vs Smart locks – what's the difference?
My interpretation of the two is an electronic lock is a "stand alone" unit that is a keypad or swipe lock that is not connected to any networks, while a smart lock will normally come with an app for programming and lock monitoring remotely via either a wifi gateway or inbuilt wifi receiver inside the lock. Because of the electronics, good quality "smart" locks will tend to be a little bit dearer then their stand alone counterparts.
The main difference in the two is programming, a stand alone lock will require being physically at the door entering in codes to change access codes, change settings etc. A smart lock will be able to be remotely programmed through an app which is more user friendly as well as remote locking/unlocking. Parents also love the fact that they can get a notification when their kids get home while they are at work.
My favorite aspect of a smart lock is being able to monitor battery percentage through an app. As the most common fault of any electronic lock is dead batteries which normally requires an expensive after hours call out fee to yours truly! Being able to monitor battery status with a glance at your phone ensures that it is very difficult to let batteries run dead and could save you money and a whole lot of hassle.
The type of smart lock I have been supplying and installing come with a "5 in 1" configuration. A fingerprint, code, swipe card, phone app and mechanical key can be used to unlock the door. A lot of useful options for different applications and it is CRITICAL that any electronic lock has a mechanical key override in case of failure.
Security, are electronic "smart" locks more secure then mechanical ones?
The short answer is no, they're not. The longer answer is that they CAN be as secure as their mechanical counterparts just at different price points. For example, for $600 I can install a much more secure mechanical lock then I could electronic. But for $1200 I could install an electronic lock that is more secure then a $600 mechanical one. So dollar for dollar they are not as secure. It's important to manage expectations when it comes to security, durability and price point. Cheap locks aren't good and good locks aren't cheap. My favorite lock combination is an electronic handle set for day to day use with a high quality mechanical deadbolt for situations where you want to lock up tight (going away on holidays, spikes in local crime etc) that way you get the best of both worlds and keep insurance companies happy with a double sided lock on the door, 95% of electronic locks and smart locks are single sided meaning free to exit from the inside with a turn snib. Which is great for convenience and fire safety but not so good for insurance companies when you are away on holiday. As they are going to expect everything to be "deadlocked" from the inside.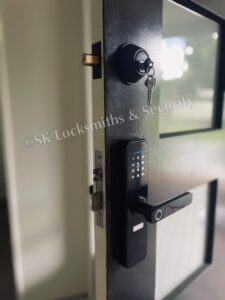 Durability
Are smart locks as durable as their mechanical brethren?
Once again, the short answer is no. Dollar for dollar a mechanical lock will always outlast an electronic one, that's not to say that electronic locks do not last at all. But a high quality mechanical lock you can expect 15 – 25 years of good use with regular maintenance where an electronic lock might be 5 – 10 years. But at the end of the day, you're buying the electronic lock for the convenience of not needing a key, and that is exactly what it provides and cannot be beaten in that category.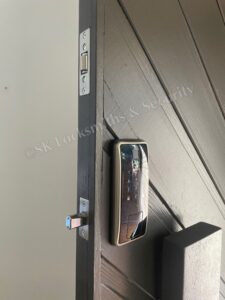 Here at SK Locksmiths & Security we provide free onsite consultations for a wide range of locksmithing and security needs.
Stay Safe!