Security and key control is paramount. Having the strongest locks in the world doesn't matter if someone can replicate your key easily or pick/bypass your locks quickly. Unfortunately this has become a reality with the wide availability of lock picking tools and information available on the internet. That's where our high security key systems step in.
INTRODUCING EPS G2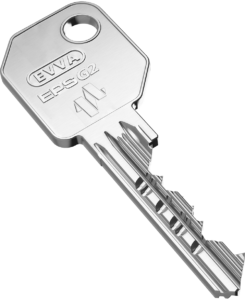 EVVA EPS G2 is one of the newest products available to the security industry. With a great balance of price, security, durability & simplicity It's a no brainer when it comes to securing your home or business and controlling access. Here are some of the features and benefits of EPS G2
– 53 million possible key combinations
– Patent protected to 2041
– Excellent price performance ratio
– Suitable for the harshest of Australian environments
– Anti drill hardened steel components
– Compliant with Australian Standard Sc8 AS4145.2
– Patented security features harden it against picking, bumping, bypassing & scanning
– Long life, anti wear parts
– Suitable for simple 1 key systems or complex master key hierarchies
– Very strong keys prevent breakage and lockout scenarios
– Tightly controlled distribution of blanks
– Legal protection of key duplication
– Technical protection of key replication to prevent reverse engineering
The list of features is pretty impressive and all for a very reasonable price. High security can get expensive pretty quickly but with EPS G2 you get all the benefits of high security mechanisms at a great price, which is why I recommend it to so many customers.
EPS G2 is used to secure thousands of facilities all over the world. EPS G2 uses a combination of sliders, a control bar and a side bar built into the mechanism to ensure that opening the cylinder without the correct key is extremely difficult. I trust these products so much in fact, they are currently used to secure my own home, office and valuable/sensitive trade equipment.
WHO IS EVVA?
EVVA is one of the most widely respected security manufacturers in the world and a staple amongst the locksmithing industry, with over 200 international patents registered, EVVA has been producing high quality locking products for a very long time. High quality, precision engineered parts are the norm for EVVA products and is the main reason as a security professional I whole heartedly endorse their products for my customers. I know that as a locksmith, when I install an EVVA product my clients are getting security, long life (low maintenance fees) and control over their security.
With cylinder designs adapted to the Australian market installing EPS G2 is a pain free process to upgrade your security. Here at SK Locksmiths & Security we provide free onsite security audits and consultations to keep your home and business safe and secure. Get in touch today to get your security and access needs under control.
Admin@sklocksmiths.com.au
0401841400